RENO, Nev., July 21, 2023 (GLOBE NEWSWIRE) — Aqua Metals, Inc. (Nasdaq: AQMS) ("Aqua Metals" or the "Company"), a pioneer in sustainable lithium-ion battery recycling, today announced the closing of its $20 million underwritten public offering of 18,193,000 shares of its common stock, including 2,373,000 shares of its common stock issued pursuant to the full exercise by the underwriter of its over-allotment option. The public offering price, before the underwriter's discount and commissions, for each share of common stock was $1.10. All of the securities in the underwritten public offering were sold by the Company.
Aqua Metals intends to use the net proceeds from the offering for working capital, including expenditures related to the commencement of the Phase One build-out of its recently acquired five-acre recycling campus at the Tahoe Reno Industrial Center in McCarran, Nevada, and general corporate purposes.
The Benchmark Company, LLC acted as sole book-running manager for the offering. The Liquid Venture Partners group at The Benchmark Company, LLC was responsible for sourcing and executing the offering.
A shelf registration statement relating to the shares of common stock issued in the offering was filed with the Securities and Exchange Commission ("SEC") and declared effective by the SEC. A final prospectus supplement relating to the offering has been filed with the SEC and is available on the SEC's website at http://www.sec.gov. Copies of the final prospectus supplement and accompanying base prospectus relating to this offering may be obtained from The Benchmark Company, LLC, 150 East 58th Street, 17th floor, New York, NY 10155, by email at prospectus@benchmarkcompany.com, or by calling +1 (212)-312-6700.
This press release shall not constitute an offer to sell or a solicitation of an offer to buy, nor shall there be any sale of these securities in any state or jurisdiction in which such offer, solicitation or sale would be unlawful prior to registration or qualification under the securities laws of any such state or jurisdiction.
About Aqua Metals
Aqua Metals, Inc. (NASDAQ: AQMS) is reinventing metals recycling with its patented AquaRefining™ technology. The Company is pioneering a sustainable recycling solution for materials strategic to energy storage and electric vehicle manufacturing supply chains. AquaRefining™ is a low-emissions, closed-loop recycling technology that replaces polluting furnaces and hazardous chemicals with electricity-powered electroplating to recover valuable metals and materials from spent batteries with higher purity, lower emissions, and minimal waste. Aqua Metals is based in Reno, Nevada and operates the first sustainable lithium battery recycling facility at the Company's Innovation Center in the Tahoe-Reno Industrial Center.
Safe Harbor
This press release contains forward-looking statements within the meaning of the Private Securities Litigation Reform Act of 1995 regarding the intended use of proceeds from the offering. Forward-looking statements involve known and unknown risks, uncertainties and other factors that could cause actual results to differ materially, including those risks disclosed in under the caption "Risk Factors" in the final prospectus supplement related to the offering. Aqua Metals cautions readers not to place undue reliance on any forward-looking statements. The Company does not undertake and specifically disclaims any obligation to update or revise such statements to reflect new circumstances or unanticipated events as they occur, except as required by law.
Contact Information:
Investor Relations
Bob Meyers & Rob Fink
FNK IR
646-878-9204
aqms@fnkir.com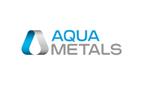 Source: Aqua Metals
Released July 21, 2023